Upcoming Diocesan Youth Council Gatherings
Sunday, Feb. 10, 1-4p: DYC Meeting, Nativity of Our Savior, Portage
This year, we're taking DYC on the road, with tour stops in New Chicago, Hammond, Winfield, Portage, and Chesterton! It's an attempt to be a little more geographically fair to all reps (and those that drive them). See schedule below.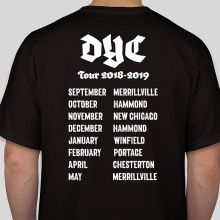 At the December gathering in Hammond, reps learned "Tips for Healthy & Holy Small Group Facilitation," then put those skills to work as we discussed how we accept/deny our invitation to encounter Christ each Christmas. Then we had pizza and participated in the annual White Elephant. Pics from 2018 DYC Meeting & White Elephant Gift Exchange: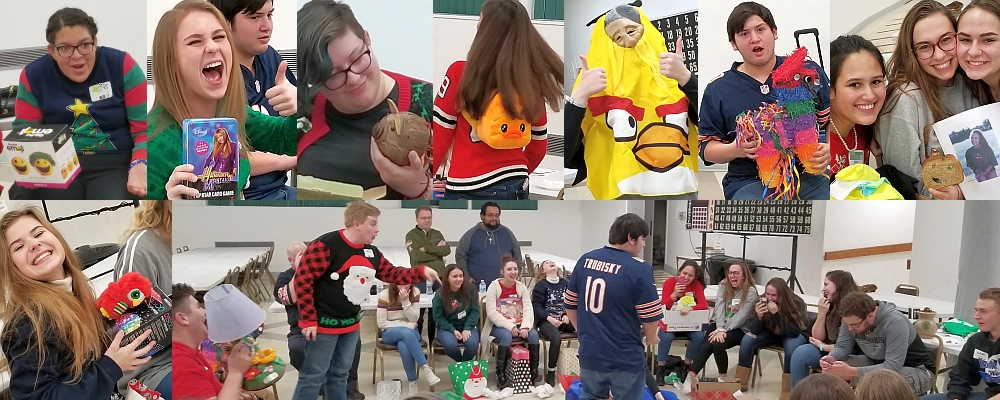 Due to a number of ministry and/or holiday reasons, there are many meetings that are not on the "traditional" 3rd-Sunday of the month. Please mark calendars ASAP.
For AY 2018-19, we will try something new. We will rotate our meetings to various locations throughout the diocese. Lake County teens and parents, we've been spoiled over the years, but this year you should be prepared to travel a little farther east, out of fairness to our Porter, La Porte, and Starke County reps who travel west a lot for ministry!
If bad weather is threatening on the day of a meeting, I will leave a message about any cancellations on the outgoing message of my voice mail at the office. Call 219-769-9292. When asked, press in my extension number: 229.
The webpage may not indicate cancellations. Facebook users: I will also send a msg. out via the DYC Facebook group. To request to be added, go to www.facebook.com/groups/garydyc
I will also utilize our Remind texting group. To join the list, text the message @garydyc to 81010
Misc. info for reps:
DYC TEXT LIST SERVICE: I am using REMIND for DYC communications: a service some of you may already being using. It is used often by schoolteachers. Forgive the school language (eg "class," "teacher," etc). To join the list, Text the message @garydyc to 81010. I will use this service to send meeting reminders, cancellation notices, etc. Remind is a free, safe, and simple messaging tool that helps teachers share important updates and reminders with students & parents. Subscribe by text, email or using the Remind app. All personal information is kept private. Teachers will never see your phone number, nor will you see theirs. Visit remind.com to learn more.

If you use Facebook, you are invited to join the DYC Facebook page. It is a closed group, so I'll have to approve you (facebook.com/groups/garydyc), but I usually do that within a day or so.

FOOD: Please make sure you eat lunch before your arrival. For all meetings you are invited and encouraged to bring snacks to share.

REPORTS: Come prepared with clear, concise reports. "I don't know what's going on" is not a good report. You represent not only a youth ministry, but a parish. There's probably something going on in your parish!

Permission forms are not optional. I will be cracking down on missed forms. I don't like to issue them any more than you and your parents like having to complete them, but they are a part of your participation. Not only are you mailed a copy, but they're available online too (see above). No excuses.

"Excused absences" are absences reported to me one week in advance. "Each member is expected to notify the Office of Youth Ministry at least one week before the meeting if he/she cannot be present and why. If a member has more than one unexcused absence she/he may be removed from the council." IF YOU AREN'T AWARE OF CONFLICTS MORE THAN A WEEK IN ADVANCE, YOU NEED A BETTER CALENDAR!

You don't have to be an adult to use a calendar! It's one of the most important skills you can learn as a leader: high-achievers (and many of you are!) tend to take on many projects and commitments. Being a responsible leader means avoiding scheduling conflicts whenever possible, and when it's not possible to avoid them, to give plenty of advance notice. Having a calendar helps you do that. If you have a smart phone, you have a calendar program- use it! Most email programs have them integrated with smart phones (Google's is excellent), and there's always good old-fashioned paper!

If you are applying for scholarships, college admission, etc., be sure to list your DYC involvement. Religious involvement- especially religious leadership- is very appealing to many acceptance boards. I am always happy to complete any letters of recommendation, etc. for you. Just give me what you need.

You should be meeting with your youth minister(s) at least once a month, to ensure that there is a flow of information back and forth.

If you know you cannot make a significant portion of the meetings, please contact your youth leader ASAP about finding another rep. No need to apologize, we'd just rather have another teen who can attend more regularly.