Congrats TAPTsters of TAPT XXXI!
Special thanks to the TAPT Leadership team and all youth ministers who helped make TAPT XXXI a blessed and holy event. It was a challenge from the start, given the sudden closure of Camp Lawrence. But the Gary South Shore Railcats were great hosts, and U.S. Steel Yard was a great facility for the retreat. If you have teens that attended, encourage them to share their experience with other teens, but remind them that the TAPT retreat weekend isn't what it's all about—it's about continuing to live a life with Christ!
TAPTsters, please complete an evaluation
Team members, please complete a team evaluation (Peer Min.'s, OATieS, Team members ONLY)
Registration Page
TAPT REGISTRATION
CLICK "REGISTRATION" LINK FOR DETAILS
Participants must pre-register to allow us to place teens in balanced small groups. "Walkup registration" is not allowed.
Because space remains, we've extended the deadline a week to March 6th. However because of facility and event requirements with our host site, U.S. Steeyard (Railcats Stadium), that is a strict deadline! It's important to register ASAP. If we reach capacity we may close sooner than March 6th. So first come first serve on the remaining spaces!
.
Registration Page
March 16-17, 2019   Railcats Stadium, Gary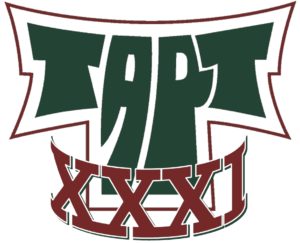 Diocese of Gary
31st Teens Are Praying Together Retreat
March 16-17, 2019
U.S. Steel Yard (Railcats Stadium), Gary
TAPT Retreat Adult Leadership Opportunities
Serving as an adult small group leader for our annual diocesan Teens Are Praying Together (TAPT) for high schoolers is one of the best opportunities for youth ministry formation, because it not only trains leaders on how to do small group facilitation and gives them general retreat skills, it allows them to have an immersive experience in youth culture. If you or anyone on your team could benefit from the experience, we will soon be recruiting adult leaders for TAPT XXXI, March 15-17, 2019. You don't have to wait: reach out to Kevin Driscoll (yyakevATyahoo. com) and nominate yourself or others now to lock in your spot. Three formation meetings train you for service on the retreat. Those dates are Feb. 17, March 3, March 10.

If you have been an adult leader on the TAPT team, loved the retreat (most do!), and would like to dive deeper, consider joining the TAPT Retreat Board team. The TAPT Retreat Board works in the TAPT "off season" to respond to recommendations and explore ways to best meet the ministry needs of teens, adult leaders, and the Diocese of Gary. The Board meets about 3-4 times a year and performs misc. committee tasks as needed. If you are interested in serving as a Board member, contact Jamie Sandona, Board chair, at jsandonaATstjohnbap. org.