I am the servant of the Lord. May it be done to me according to your word. (Luke 1:38)
The Diocese of Gary Office for Youth & Young Adults, in collaboration with the Office of Intercultural Ministries, is coordinating a pilgrimage to Panama for the next World Youth Day, held in January, 2019
Age: The minimum age for pilgrims is 16. Young adults are especially invited (while in the U.S. "youth" is often associated with adolescents, it is more commonly used to identify college/20-somethings internationally). Youth under 18 must be under the guidance of a chaperone. Target age for WYD internationally: 18-35.
Estimated cost: The estimated cost per person is $2,200, which includes air, hotel, transportation, most meals, and all WYD credentials.
WYD Dates: January 22-27, 2019. To avoid a significant conflict with academic schedules, the diocesan package includes most WYD events January 24-29 (four missed school days).
Official WYD 2019 Website: panama2019.pa
USCCB WYD Website: wydusa.org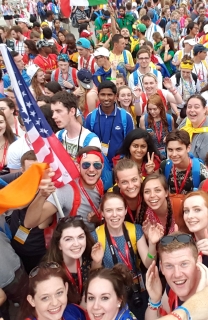 Official social media sites (English)
CONFIRMED WYD 2019 PILGRIMS (as of April, 2018)
Kevin Driscoll • Diocese of Gary
Adeline Torres • Diocese of Gary
Annmarie Bender • Holy Spirit, Crown Point
Katherine Bender • Holy Spirit, Crown Point
Laura Bender • Holy Spirit, Crown Point
Brett Driscoll • St. Edward, Lowell
Vicky Hathaway • St. Edward, Lowell
Alexandria Higareda • St. Casimir, Hammond
Paige Krohn • St. Teresa of Avila, Valparaiso
Deacon Bob Marben • St. Teresa of Avila, Valparaiso
Karen Marben • St. Teresa of Avila, Valparaiso
Leslie Muñoz • St. Casimir, Hammond
Bob Pence • St. Teresa of Avila, Valparaiso
Paul Rubio • St. Teresa of Avila, Valparaiso
Emily Sutton • St. Teresa of Avila, Valparaiso

"World Youth Day has helped me see strangers through the eyes of love. I have encountered so many people, and with each one, God reminds me that He is deeply in love with each of us. It's humbling for me to see that I am so loved by the One who loves so many."

"Life is unpredictable. You can plan, but at times those plans are not what God has in store for you. Strengthening your trust and faith in God is what I have taken away from this pilgrimage, and will continue to do."

"Pilgrimages…and a multitude of other experiences make Catholicism a beautiful and wild patchwork quilt of encounters with the power of the Divine Presence, mysteriously embedded in the complexity of the human experience. Young people are unfailingly transformed through their participation in World Youth Days because they fundamentally grasp this truth on a very deep level. Many married couples, singles, priests and religious discovered their vocations because of WYD!"

"There was a real transformation that took place in both our teens and adults."