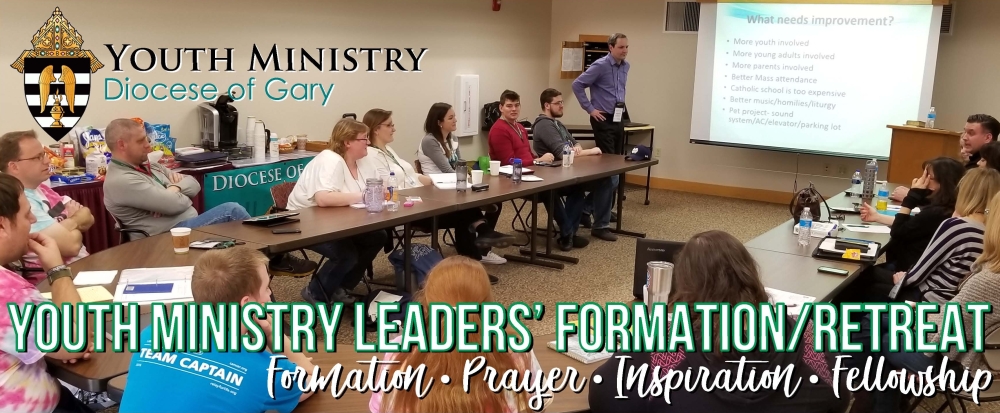 2019 Diocese of Gary Youth Ministry Leaders' Formation/Retreat
Friday, February 1 7P E / 6P C
to
Saturday, February 2 8P E / 7P C
Donaldson, IN
The Elephant in the YOUTH Room: PASTORAL CARE FOR TEENS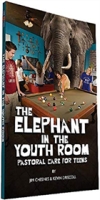 Adolescents in 2019 face anxieties never before seen. Youth face stress, addiction, depression, abuse, family crisis, sexual pressures, and a slew of other problems, and their always-connected smartphone culture makes it difficult for them to disconnect. Your youth programs can be transformational experiences for a hurting teen, if you're ready to acknowledge—or dance with!—the elephants in your youth room, and present the healing Christ. These sessions will provide you with a "State of the Youth" address, and a frank discussion on how to provide pastoral care for youth in need.
In 2011, Jim Chesnes and Kevin Driscoll teamed up to co-author The Elephant in the Youth Room: Pastoral Care for Teens, published by LifeTeen and distributed nationally. We believed then—and still do—that of all the ministry components of Renewing the Vision: A Framework for Catholic Youth Ministry, the USCCB document on Catholic youth ministry, the Ministry of Pastoral Care speaks most accurately to the secular world in which teens live. Unfortunately, when teens are in need of help, youth ministry leaders often lack the training or confidence to respond. These sessions will help you provide
"…a compassionate presence in imitation of Jesus' care of people, especially those who were hurting and in need." (RTV)

OUR SPECIAL GUEST PRESENTER: JIM CHESNES
Jim Chesnes has almost four decades of experience working for the good of young people. He began his career as a Younglife staff member in 1986, and then spent nearly thirty years as a Catholic youth ministry coordinator in the Diocese of Palm Beach, FL. Jim quickly understood the mental health of adolescents was quickly changing, and earned an MS in counseling in 1998. Jim was licensed in Mental Health Counseling in 2000 and specializes in pediatrics and families. Jim is a co-founder of Creative Living Therapies in Jupiter, FL, providing comprehensive mental health services and psychological assessment.
ALSO: PRAYER, SPIRITUAL REFLECTION, NETWORKING, IDEA-SHARING, MASS; IT'S THE RETREAT YOU DESERVE!
Make the INVESTMENT in your youth ministry leadership:
Cost is $100 per person ($140 for single room), which includes lodging, three meals, national conference-quality presenter/trainer, opportunities for Mass and prayer. Is this more expensive than most things we do? Yes. Is it BETTER than most things we do? Definitely! This is simply the most comprehensive, in-depth, YM-specific formation experience OYYA offers.
HOW TO REGISTER:
Because we need to place an order with the retreat center, it is important that you register on or before January 16th. Thanks!
(remember – select "Pay Later")

OYYA can also issue an invoice if your parish is willing to pay for your participation. Simply call or email Emily 219-769-9292 x282 esutton@dcgary. org
At registration you will choose between single or double occupancy. The registration fee for those choosing double occupancy (one roommate) is $100 (inclusive of all retreat expenses). If you have a roommate request, you can include that during the online registration process. If you select double occupancy and do not include a roommate request, we will assign a roommate for you. You may also choose to have your own room. That rate is $140.

Rooms include: private bathroom with shower, individually-controlled heating and air conditioning, towels and linens are provided. Handicapped-accessible rooms are available upon request.

While we certainly recommend lodging at Lindenwood, commuting may be an option for those in the eastern part of the diocese. The commuter registration rate is $60.

Married couples should select double occupancy and list each other in the roommate preference box. Only twin beds are offered at Lindenwood.

During online registration, select PAY LATER, and kindly ignore the notice that reads "registration not complete without payment." Your registration will be received.

Payments will be collected on-site at check-in. Cash or checks accepted. OYYA can also invoice. Credit card payments can be made online using link above, or on-site.
WHY LINDENWOOD?
Escape the busyness of your lives to a place where you can reconnect with God and the beauty of God's creation, in all its winter splendor! The Lindenwood Retreat and Conference Center, a ministry of the Poor Handmaids of Jesus Christ, is 40 miles east of Valparaiso, and miles away from your stress.
"Why so far away?" Because it will truly feel like a retreat, and it's actually not as far away as you might think. An easy drive east on U.S. 30, Lindenwood is about 40 minutes from Valparaiso, about an hour from Merrillville, and about 75 minutes from Hammond. Consider carpooling: prior to the retreat we will contact all participants to help, using the email address given at registration.
When you arrive on the grounds, you'll understand why we chose Lindenwood! It provides us the perfect setting to grow in faith: excellent lodging and meeting space, delicious meals, and the unforgettable Ancilla Domini Chapel.