April 20, 2020
Hello Dear Friends!
Pope Francis just announced today that the date of World Youth Day Lisbon will be rescheduled to August 2023.
From the Vatican: "Due to the current health situation and its consequences on the movement and aggregation of young people and families, the Holy Father, together with the Ministry for the Laity, Family and Life, decided to postpone the next World Meeting for one year. The World Meeting of Families, scheduled in Rome in June 2021, and the next World Youth Day, scheduled in Lisbon in August 2022, respectively in June 2022 and August 2023."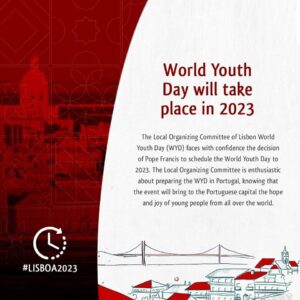 The Diocese of Gary is still planning a pilgrimage. We are still going to go. It might just take longer to get information out.
4 Steps that you can start taking right now:
–Sign up for our mailing list if you haven't done so. This is the best way to let us know that you are still interested in joining us for the pilgrimage.
-Start saving for the pilgrimage! Here are two resources to help you: 5 Creative Ways to Fund a Pilgrimage and 9 Easy and Creative Ways to Save for a Pilgrimage
-Start physically preparing yourself for the pilgrimage by taking a walk. When people go on pilgrimages, they are often "praying with their feet." Take some time to go outside and go for a walk.
–Ask for the intercession of Our Lady of Fatima as you prepare for World Youth Day.
As we hear more about our pilgrimage, we will keep you posted!
Peace and all goodness,
Vicky Hathaway
Ministry Consultant for Youth and Young Adult Ministry
Diocese of Gary
vhathaway@dcgary.org