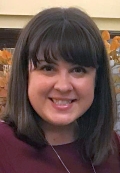 When a group of World Youth Day pilgrims from the Diocese of Gary gathers in Panama City for the Stations of the Cross presentation on Friday, January 25, one of them will have a special vantage point: on stage with Pope Francis.
Vicky Hathaway, a young adult parishioner of St. Edward (Lowell), was invited by the United States Conference of Catholic Bishops' World Youth Day office to join a small group of young adults from the U.S.A. to be present with the Holy Father during the Stations, a WYD Friday evening tradition established by Saint John Paul II, the founder of World Youth Day.
Hathaway was selected for her "tireless and dedicated service" to young adults in Northwest Indiana, her "engagement on the diocesan and national levels of young adult ministry," and also for her work with persons with disabilities, "an area close to the heart of Pope Francis," according to the USCCB invitation email.
Congratulations, Vicky!