Advent Blessings and Merry Christmas! As I type this update, the countdown clock at garywyd.com reads "32 Days." In a little over a month we will board a bus headed to O'Hare to encounter Christ in so many profound ways that are hard to describe! That experience of the Catholic Church you have in your local parish? How amazing it will be to see the SAME faith—celebrated and proclaimed for 2,000 years—on display in so many languages, in so many faces.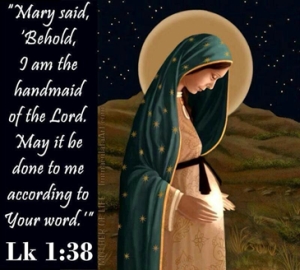 Christmas affords us an opportunity to focus on the WYD theme: I am the handmaid of the Lord. May it be done to me according to your word (Luke 1:38). Mary's loving "YES" and the Most Holy Incarnation transformed the world. By all scholarly accounts, Mary was a pregnant teenage virgin. We all face a world that is not accepting of religion, and it can be difficult to face that animosity, but nothing compared to how ostracized Mary must have felt! Mary, Mother of God, pray for us!
This mailing (and posting at garywyd.com) will update you on misc. WYD items as you prepare for the pilgrimage. The truth of the matter is that not a lot has changed since we met in September! That said, WYD tends to wait until the last-minute to release details on things. I will be passing along details you need to know between now and January 23rd via garywyd.com, email, and/or the Remind text group.
A sincere mea culpa for not gathering one last time. We sincerely tried, but simply have not been able to do so. Fortunately there are only 15 of us, so it won't take long for us to get to know each other!
May God bless you and your families this Christmas season
Kevin Driscoll
Diocese of Gary Office for Youth & Young Adults
DOWNLOAD THE ENTIRE PDF MAILING THAT WAS SENT 12/21/18

Mailing index:
What's coming in January
Airport shuttling
Google Map/Locations
Vigil/Mass site established
WhatsApp
Packing list
World Youth Day Panama 2019 Pilgrim Kit
WYD Catechetical Themes
Safety Reminder, Enroll in the STEP Program
WYD social media sites
Vicky Hathaway/Via Crucis
USCCB Social Media Invitation
Trading at World Youth Day
Pilgrim advice from Bishop Hying