This is the website for the DIOCESE OF GARY pilgrimage to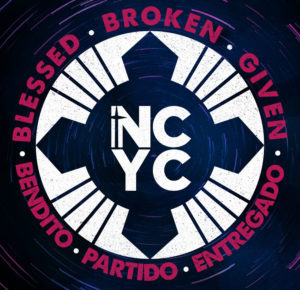 2019 National Catholic Youth Conference
Blessed · Broken · Given
Bendito · Partido · Entregado
November 21-24, 2019 · Indianapolis, IN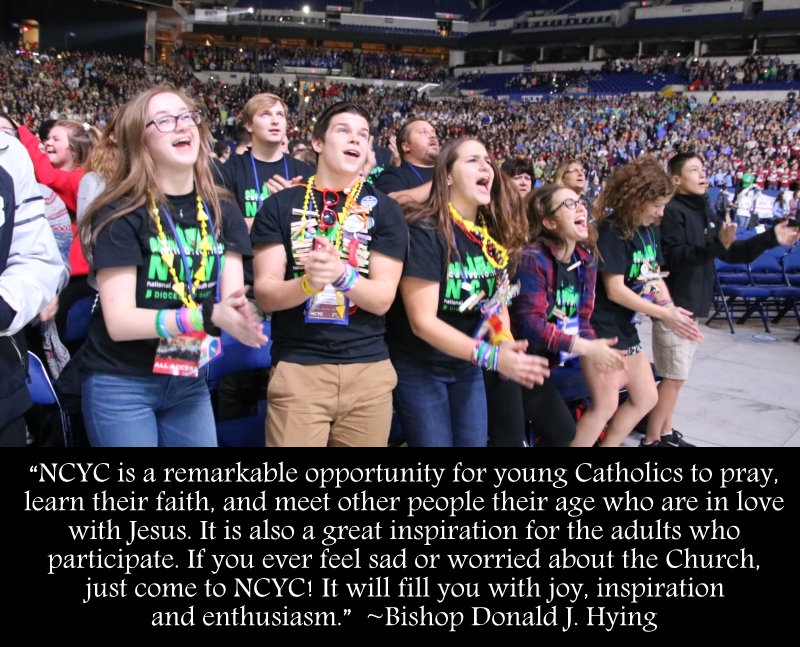 "It was amazing to see 23,000 people in one arena,worshipping, praying, all together."
~former Diocese of Gary NCYC participant
"It was life-changing. It was amazing to see the change in our young people in such a short time, (and their) desire to share their faith more openly. They know it's OK to believe what they believe in and to express that with other people."
~former Diocese of Gary NCYC adult group leader
UPDATES:
Kevin is back, kinda': Many parishes have begun meeting with parents, promoting it, holding fundraisers, etc. As you likely by now know, I resigned as full time director of youth and young adult ministry. I am happy to announce that I will remain employed by the Diocese of Gary to oversee three important youth and young adult ministry events in 2019: the TAPT retreat (March 16-17), the new Awakening retreat (April 12-14), and the diocesan delegation to the National Catholic Youth Conference (Nov 21-24). Rest assured, if all goes according to my plan, you will hardly experience any change from previous years, with one notable exception that I will not be in the office M-F, I will be doing the work from home part-time. You may find less frequent reminders as a result, so it is essential to follow the "Dates and Deadlines" document already sent. ~Kev.
Who is going?! Based on previous participation, inquiries, and communications, these parishes are in my records as prospective NCYC 2019 participants. If your parish/ministry/school is not on this list, it is crucial that you email me ASAP, to make sure you do not miss out on information:
Andrean High School, Merrillville · Catholic Communities (Sacred Heart, Wanatah-St. Martin of Tours, La Crosse-St Mary, Otis) · Holy Name, Cedar Lake · Holy Spirit, Winfield · La Porte Catholic Church · Nativity of Our Savior, Portage · Our Lady of Sorrows, South Haven · St. Ann, Gary · St. Edward, Lowell · St. Elizabeth Ann Seton, Valparaiso · St. Helen, Hebron · St. John Bosco, Hammond · St. John the Baptist/Whiting-Robertsdale Cluster · St. Mary, Crown Point · St. Matthias, Crown Point · St. Michael, Schererville · St. Patrick, Chesterton · St. Paul, Valparaiso · St. Teresa of Avila Catholic Student Center, Valparaiso · St. Thomas Aquinas, Knox
"NCYC WOULD BE GREAT. BUT MAN IT'S EXPENSIVE."
That's why we start the journey over a year in advance! NCYC is expensive, no doubt. But I've been in Catholic youth ministry my entire adult life, and I've been to 11 of them. I still say it is my favorite youth ministry event, and I strongly believe it's worth every penny. NCYC is everything you love about youth ministry (okay, unless you like small and quiet). Seriously- is prayer your thing? How about 22K+ in silence before our Blessed Sacrament? Service? Sign up and make meals for the hungry. Things feel stale and you're looking for new ideas? Browse hundreds of exhibitors from across the nation. Need inspiration? The best of the best speakers and workshop presenters, and it's surreal watching some of those live concerts! Feeling like teens just aren't religious these days? Surround yourself with about 20,000 of them laughing, dancing, screaming, praying, listening, and ENGAGING.
Resources for Diocese of Gary NCYC group leaders:
Courtyard, confirmed: We have again been assigned to the Courtyard by Marriott Indianapolis Downtown, the same hotel for which we have been assigned since 2011. All previously-published estimates were based on the assumption that we would be placed there, so those figures will hold up.
NCYC 2019 Info Meeting for Group Leaders
Held: Mon, Nov 26, 2018 6:30 PM – 8 PM CST
If you missed the meeting, a recording is available. Email Kevin at yyakev@yahoo.com to request the link.
Link to YouTube video: I showed a promo video during the online meeting but it didn't translate well. Here is the link. This is a promo video that I spliced together prior to NCYC 2017. There are a number of videos available at NFCYM's YouTube site. Many are either more low-key or high-energy. This one is a little longer and has both elements. Please note the end shows NCYC 2017, but the video definitely holds up for NCYC 2019.
Documents for Group Leaders